Aurora Grajeda is a college educated transgendered woman who emigrated to the United States from Mexico 45 years ago. A long time resident of San Francisco, Aurora is also a long time Liberal activist who has championed such causes as ending violence against women, children and minorities. She worked to see universal health care become a reality and continues to work for immigration reform. In 2008, at the age of 61, she was honored by the city of San Francisco as a Woman Making History for her work in the LGBT and Hispanic communities. In 2010, she was named (along with Oprah Winfrey) as one of 8 outstanding individuals honored in Sacramento. 
Aurora Grajeda has never been an armchair activist, even now, at the age of 66 you can see her marching for worthy causes on the streets of San Francisco. And she writes on her blog entitled
El Rinconcito de Aurora, My Free Speech Soap Box
. Aurora Grajeda's work to improve her community and the lives of her fellow citizens spans decades and should be respected as well as applauded.
As a Mexican Transgendered woman, Aurora has experienced more than her share of discrimination, prejudice, harassment and abuse. She has endured this online as well. Last year during the assault on Unite Blue members by Trina Cuppetts band of Pedo Hunters, Aurora was singled out and viciously attacked. Just before Christmas she was banned from DailyKos, after being a member for seven years, for making a comment supporting an article exposing Dead Beat Dad, Neal Rauhauser (
Her story on that here
). And most recently Aurora became the target for the "cold eye" of @expatina, Suzanne Munshower.
Munshower considers herself to be a political pundit despite having left America many years ago. Suzanne Munshower truly is an armchair activist, delivering her cynical viewpoint on American politics from Berlin, Germany. She is rabidly against the liberal organization, UniteBlue, and writes for the anti-UB blog UniteThis under the name expatessa. She has accused Unite Blue of being a cult and its members brainwashed. Munshower believes that Aurora is not only a member of the Tea Party but an operative being paid by the NRA.
Aurora Grajeda has earned and deserves respect from her Liberal peers.  And Munshower? ...pffft is the best I can do.
Munshower made her living as a writer yet has a reputation on Twitter for being Queen of the Typos. And a shrew. Here she is with her lapdog (horse) TarotDarrow mocking Aurora who chooses to use the letter "d" in place of "the" in her tweets. The Amos 'n Andy style mockery is racist.
Last edited by ZiLe on Sat Jan 11, 2014 11:01 pm; edited 13 times in total

ZiLe

Admin




Posts

: 369


Join date

: 2013-11-04



Suzanne thinks subtweeting her abuse protects her from suspension.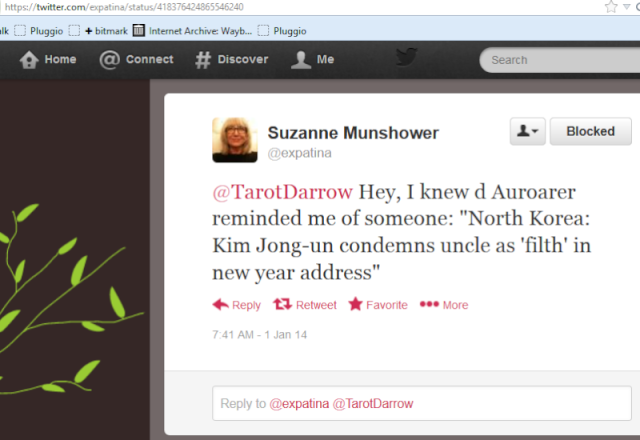 https://twitter.com/expatina/status/418376424865546240

ZiLe

Admin




Posts

: 369


Join date

: 2013-11-04



The irony, sick for sure, is that Aurora has a far better comprehension of English than any of the #ShrewsWhoMisconstrue.

Suzanne, Carol and the horse and (and their little lap dog RJ) can't seem to even understand the meaning of simple tweets. This is often displayed in their own tweets. Notwithstanding, if they would quit trolling other people's timelines - people who have them blocked - they could spare themselves the embarrassment of displaying their ignorance in public. 

The most pathetic part of all of this is their need to try and intentionally insult and hurt others on twitter. Oh, and no, anonymous-cowardly-horse, that doesn't take a PhD to see and see clearly, try your mirror.

They are such a sad little group to be displaying such mean spirited bullying. #ShrewsWhoMisconstrue make fools of themselves in their zeal to try and belittle others. 

I'm so thankful I know real people, with humanity in their souls on twitter. If the Shrews were the norm for twitter it would certainly be a pit of vipers! 

Thank you for providing this forum and all else you do to keep people informed Zile! 

To all of my friends on twitter who the Shrews have a voyeuristic need to stalk night and day - well, that is because you have a life, and are interesting, smart, and humorous - qualities obviously lacking in the lives of the Shrews. 

Keep up the great work Zile! 

@alasscan_

@alasscan

Guest





I absolutely love the pic where Aurora is holding the "Noble Cause" sign. Very nice.  She has much to be proud of, I know we are all proud of her.  It has been a pleasure knowing her through twitter.

Activism is more than a keyboard, if you can type, you can do more than twitter.  Please visit Aurora's blog with the links in the body of Zile's piece.
Last edited by thoth on Sun Jan 12, 2014 1:43 am; edited 1 time in total

thoth

Admin




Posts

: 158


Join date

: 2013-11-04



This is a good example of so-called Liberals continuing to bash our transgendered friend.  She was simply being a classic run-of-the-mill bully, harassing without provocation, until she "dudeD up". (https://twitter.com/TarotDarrow/status/421781613408575488) 
There is a larger story on TarotDarrow in the works.

thoth

Admin




Posts

: 158


Join date

: 2013-11-04



Thanks for posting this history about Aurora! That's true activism. I wouldn't call Munshower any kind of activist - armchair or otherwise. Her act is to criticize and insult others in a lame attempt to bolster her own pitiful standing. She's nothing and the sooner we all realize that and stop giving her the attention she desperately craves, the sooner she moves on to the next drama. That's my hope anyway.

I know that many of you, but especially Aurora, Jan and Zile or Zaffre have contributed a lot of time and effort in dealing with this ridiculous Cabal (band of zombies). I so appreciate these efforts. I am heading into busy times, but if you want to delegate tasks to me, please let me know. I'd like to help. I'll be uploading some additional screenshots, but haven't been taking many lately.

Thanks again & I hope to see all the old accounts revived soon.



LA_Crystal

Guest






ZiLe

Admin




Posts

: 369


Join date

: 2013-11-04




---
Permissions in this forum:
You
cannot
reply to topics in this forum