While RJ and Osborne have given their accounts of what they call the "False Report" to the FBI made on September 19th, their version isn't supported by the actual events.
The disturbed individual who operated the Prison4you account also showed up to give its 2 cents worth even though it doesn't have a clue.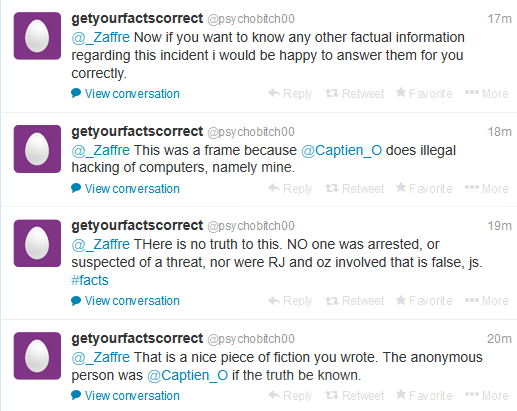 The episode began with the account of @Prison4you. This was the latest in a series of accounts created by someone who had been harassing Politaire_ and Captien_O for months with threats, foul language and allegations. All the accounts were pretty bipolar with tweets ranging from hilarious to psychotic babble. On September 19th the account was particularly psychotic.
Here's a screencap of the specific tweets: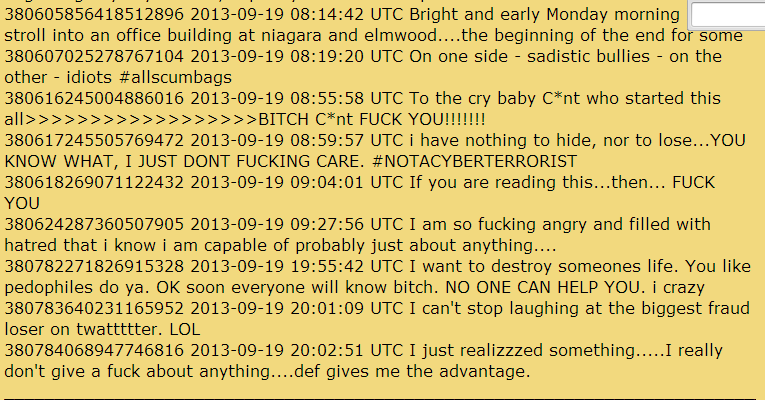 (More of Prison4you's tweets can be found
here
 )
There were several people watching the account so there was some alarm over what might have been a threat to people in an office building on Niagra and Elmwood. Several of us googled the location and found there was a Federal building there. This created more concern. It was likely that Prison4You meant he was going to file a complaint with the FBI at that location but looking at the other tweets there was also a possibility he was going to walk in there with a gun or a bomb. Keep in mind this was a week after the anniversary of 9/11.
Because of the uncertainty of intent, one person-who wishes to remain anonymous-called the FBI. This individual was not Captien_O.  I notified the Buffalo Police and filed a Twitter threat report.  There was no "False Report", the account & its tweets were simply reported. The FBI chose to investigate. The FBI determined who they would question. The FBI chose to visit Matt Osborne & RJ Sterling.
The first I heard of it was when Know It All Neal brought it up on Twitter and true to form, made himself part of the drama. At that time, RJ (AdversAerial) tweeted that he was very upset about the visit and didn't want to talk about it. Later on he changed his narrative to a bromance with the agents that visited him.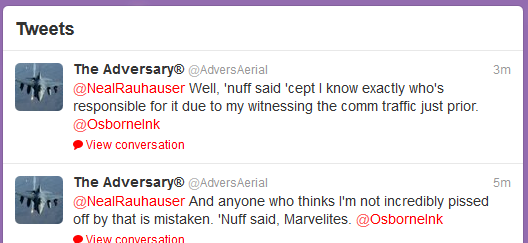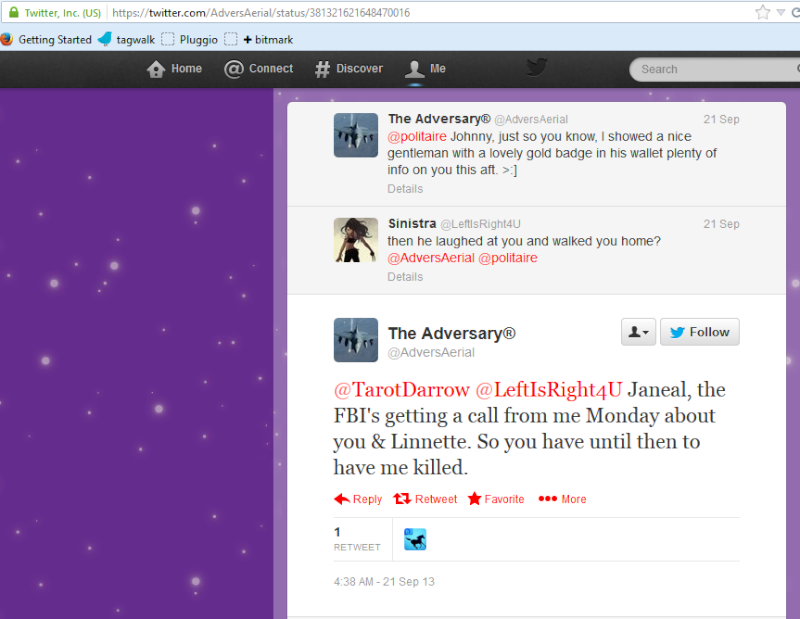 As far as I know, no arrests were made but the FBI wants the person who made the threat and is watching various accounts. While RJ Sterling and Osborne can put their own spin on the incident, the truth is that the FBI chose to question them and had valid reasons to do so.
Six weeks after the incident I got a response to my report from Twitter. They wanted to let me know that the account was deactivated so problem solved. In truth, @Prison4you had a new account by that time so I let Twitter know. They wanted me to fill out another report....
On at least one previous account this #crazyhatebot complained that Pol had hacked it's computer around May 25th. This seems to be a very confused troll.

thoth

Admin




Posts

: 158


Join date

: 2013-11-04




---
Permissions in this forum:
You
cannot
reply to topics in this forum