Who is kwilliams and why did s/he co-opt #LibCrib originated by @CribBoss Russ Hayden?  The genesis of #LibCrib took a lot of time and dedication by Russ and friends, and was for some a twitter ingenuity. It is a hashtag designed to be a social club for those that just wanted to hang out and have a nice time.  A virtual cocktail  lounge with music and entertaining chatter.  In collaboration with UniteBlue.org, a troll free zone was established on the UB site in 2013.  This cache captured the original author, now identified as Jack  Stanton.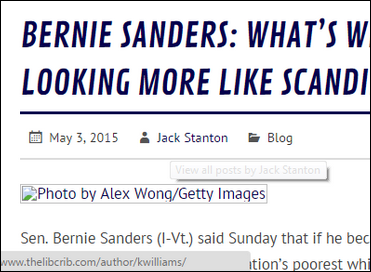 It appears that "kwilliams" now using the alias Jack  Stanton, wants to ride the coattails of this popular hashtag by actually usurping the hashtag, in fact stealing the intellectual property of Russ Hayden.  And s/he did this by going all in, using the twitter handle @TheLibCrib, creating a Facebook site, and indeed buying the domain www.TheLibCrib.com.   Each of these is an automated feed.  Attempts to actually contact @TheLibCrib have gone unanswered.  Previous responses to others inquiries sound as if there is some sort of Evangelical agenda to "get out the word."  LOL - What?  There is no shortage of Democratic or Liberal dailies, and indeed there are many politically oriented twitter accounts.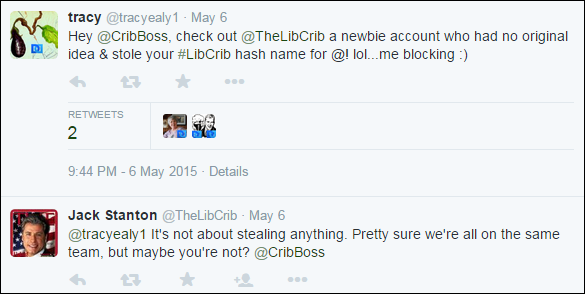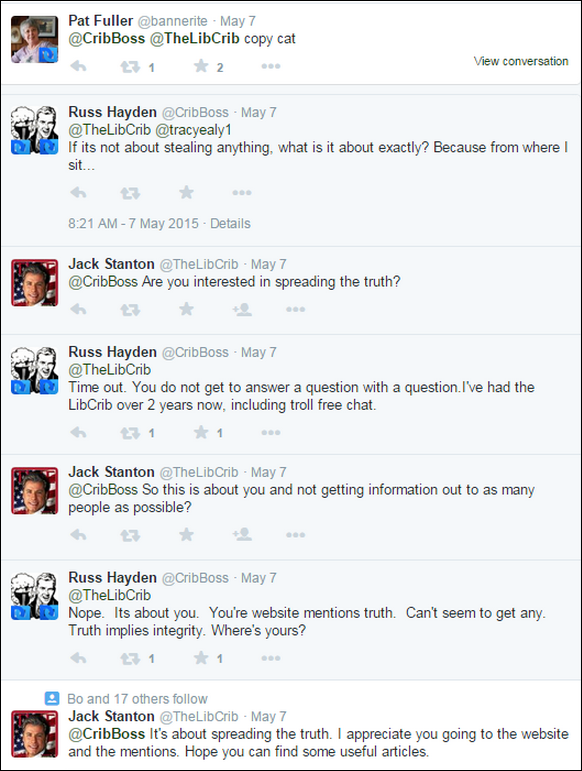 Clearly Jack Stanton (kwilliams) has zero integrity in this matter and has no real investment in spreading the "word," as I mentioned all these sites are automated.  So what ya doing Jack?  You got a shiny new twitter, a shiny new Facebook, and a shiny new website, all built on low class theft. 
Squatting perhaps? or just looking to make money with ads that you hoped would come with stealing a high profile hashtag?  No matter what your reason, you are just the type of low life scum that actual Liberals advocate against. So let me get the *word out*  and *spread the truth* because you are not cut from that cloth.  On a final note, let me assure you - We clearly are not *on the same team. 
So who is kwilliams?  If you have ideas let me know on twitter.  > @greenmitera
**This site is rarely monitored for comments, for other ongoing sagas please visit our sister site, opuniteblue **

Kaza




Posts

: 19


Join date

: 2014-01-19




---
Permissions in this forum:
You
cannot
reply to topics in this forum